THE FANTASTICKS
Robert Goulet's first love is the theater. A stage veteran and his many credits include: Sunshine Town, Thunder Rock, The Optimist, Dreamgirl, Carousel, Finian's Rainbow, Gentlemen Prefer Blondes, The Pajama Game, Beggars Opera, Bells Are Ringing, Meet Me in St. Louis, The Happy Time, I Do, I Do, On A Clear Day, Kiss Me Kate, The Fantasticks, South Pacific, Camelot (as King Arthur), Moon Over Buffalo, and Man Of La Mancha, La Cage aux Folles.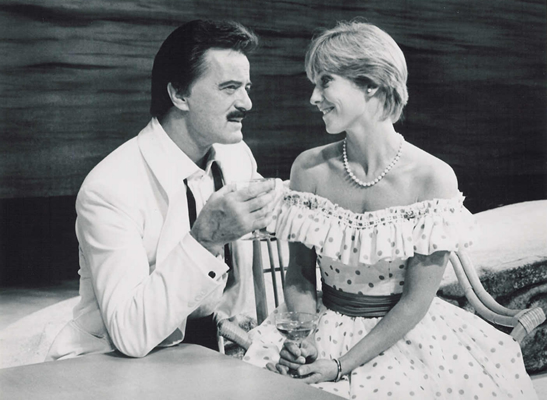 SOUTH PACIFIC
LT.CABLE
1956
EMILE DE'BECQUE
1986-89
2002
After half a century 'South Pacific', winner of the Pulitzer Prize and total of 9 Tony Awards is every bit as charming and poignant as it was in 1950. Based on a novel by James A. Michener, the prolific team of Rodgers and Hammerstein created a tender love story, a glorious musical score and brilliant and entertaining lyrics.
Set in French Polynesia, where the U.S. military occupies an island paradise during World War II, two parallel love stories are threatened by the dangers of prejudice and war. Nellie, a spunky nurse from Arkansas, falls in love with a mature French planter, Emile. Nellie learns that the mother of his children was an island native and, unable to turn her back on the prejudices with which she was raised, refuses Emile's proposal of marriage. Meanwhile, the strapping Lt. Joe Cable denies himself the fulfillment of a future with an innocent Tonkinese girl with whom he's fallen in love because of the same fears that haunt Nellie. 'South Pacific' is a powerful tale of love and racism.