May 21, 2006

Robert Goulet Seeks Canadian Citizenship
Cassandra Szklarski, Canadian Press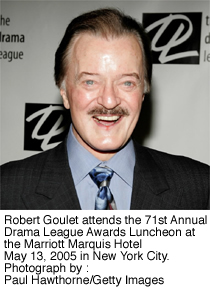 TORONTO -- The rich baritone and magnetic stage presence of Robert Goulet have garnered him fame, wealth and international stardom but after a lifetime of accolades one prize still eludes him -- Canadian citizenship.
The square-jawed singer says he longs for official recognition of his ties to the Great White North, where he spent his formative years honing the deep voice and matinee idol swagger that first took Broadway by storm some 40 years ago.
"I feel Canadian," Goulet says by phone from his Las Vegas home.
"I tried to become a citizen for a long time but the red tape is going to drive me nuts.
"It's always red tape. I've got a senator from Alberta ... working on it."
Although often claimed by Canadians as their own, Robert Gerard Goulet was actually born in Lawrence, Mass., roughly 45 kilometres north of Boston.
He moved to the Edmonton area at age 13 after the death of his Quebecois father, spending six years in Alberta and then moving to Toronto for seven years, during which time he hosted a weekly variety CBC-TV show in the mid 1950s. The first Goulet came from France in 1645, he states matter-of-factly.
"My formative years were in Canada and I have so much love for Canada," the 72-year-old says in a racing voice that intermittently booms for emphasis.
"My mother and sister, and my sister's husband were all buried in a little village called Girouxville in northern Alberta."
Friend, fellow musician and Alberta senator Tommy Banks says he's discussed the issue several times with Goulet over the last few years. The pair met when both worked for the Alberta radio network CKUA in the early 1950s.
"It's complicated by the fact that he's not born in Canada," Banks says from Ottawa.
"There just isn't any shortcut around it, even an international celebrity has to go through the same hoops as everybody else does, which is to go to the consulate in Los Angeles ... and take out an application for citizenship.
"I think that an argument can be made that we would be better if he is a citizen than if he is not."
Goulet says he hopes to sort out the matter when he visits Toronto on June 3 to accept an induction into Canada's Walk of Fame.
A gala presentation will be held as his name is officially emblazon his name on a downtown sidewalk alongside fellow inductees that include bandleader Paul Shaffer, game show host Alex Trebek and comedian Eugene Levy.
Actors Brendan Fraser and Pamela Anderson and singer Jann Arden will also be honoured.
None can boast of so storied a career as Goulet, a larger-than-life personality so ingrained in the public consciousness that today he's as much known for being Goulet as he is for the voice that put him in the spotlight.
The dark-haired crooner still pops up on U.S. television shows every now and again -- in recent years appearing on The Simpsons, King of Queens, and Las Vegas -- playing himself, of course.
He's willing to make fun of a cheesy swinger image that has only gotten more over-the-top with time, but his strength as a stage performer has not waned. Goulet just came off a triumphant return to the New York stage for a production of La Cage aux Folles last year.
"I got the best reviews of my life playing a gay guy," Goulet laughs, admitting he "worked his bananas off" to earn the legendary reputation he enjoys now.
"I thought they were going to kill me but I couldn't believe it. The best reviews of my life. From the New York critics, wow."
These days Goulet is tinkering with ambitious projects that include a book he hopes to publish by the fall and a one-man show he hopes to launch in a year and a half.
The book will be a collection of scratchings gathered from the road, quiet moments of reflection and sudden moments of inspiration.
"It's little bits and pieces, there's no big long line. Some of it is very serious, some of it is very sad, some of it is cute and funny," Goulet says.
"Whenever I get the mood and into the zone I write something down. And my wife has been keeping all these little pieces of paper that I put in between books, I put in drawers in hotel rooms when I'm on the road ... I'm putting it into a book form called the Inner Robert Goulet."
The one-man show would be a song-and-story exhibition that takes him across the United States, and possibly into Canada's larger cities.
"It'll be about my life and my journeys and I'll try to reach somewhere inside and I'll sing songs that meant something to me then and mean something to me now."
When he looks back on his life, Goulet says his thoughts often turn to those early days carving a career north of the border. He credits a music teacher in Edmonton with teaching him the proper way to sing and says he cherishes an honorary fellowship the Royal Conservatory of Music granted him in 1993.
"I always miss Canada. I'd love to visit those places again," he says.
© The Canadian Press 2006