February 5 , 2007

Robert Goulet Loves College Basketball
Posted Feb 15th 2007 4:15AM
by mjd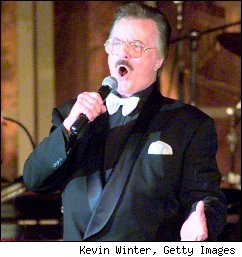 Filed under: NCAA Basketball Media Watch, NCAA Basketball Video
I have only a vague recollection of these Robert Goulet commercials on ESPN, but they're fantastic. Emerald Nuts used Goulet in a solid commercial during this year's Super Bowl, but ESPN was way ahead of the curve on this. The Worldwide Leader was down with Goulet before it was cool to be down with Goulet.
These are from a time when Dean Smith was coaching at Carolina, Rick Majerus was doing this thing at Utah, Nolan Richardson was at Arkansas, and Wake Forest was good. There are twelve of these beauties at Goulet's website (which I visit about 13 times every day), and they're all enjoyable. But I think the Kansas one best encapsulates Goulet.
February 5 , 2007

Emerald Nuts' latest ad another gem

By Scott Linesburgh
Record Staff Writer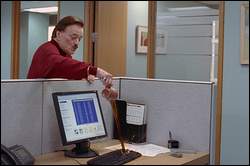 STOCKTON - Diamond Foods Inc. tossed the ball to Robert Goulet and scored another touchdown among a group of Super Bowl commercials that had as many fumbles as the actual game.
The Stockton-based company has become known for its innovative Super Bowl commercials, and the Emerald Nuts spot featuring Goulet as a midday menace who wreaks havoc at the office was no exception.
Diamond Foods went for a good laugh, and that was the general rule for this year's batch of ads. There was plenty of slapstick comedy and cartoon violence, and a few attempts at edgy humor, some of which actually worked.
The best commericials
1. The hungry dog (Budweiser): Call us a big softie, but this was a sweet ad. A hungry, sad-sack dog gets splashed with mud, can suddenly pass for Dalmation and triumphantly gets a ride on a fire truck. And the Clydesdales were back. All together now "" Awwww.
2. Robert Goulet (Emerald Nuts): This ad succeeds on many levels. It's quirky, witty and reminds us that Robert Goulet is a danger to our way of life. Consider yourself warned.
3. Monster movie (Garmin): A man is driving along and has to turn into a superhero to battle the map monster. We've all wanted to rip up the map when we get lost, and it was goofy fun for the kids.
4. Bank robbery (E-Trade Financial): This is what an edgy commercial should be. The bank employees order customers to the ground before assessing them with fees, and it will elicit either a hearty laugh or a nervous giggle.
5. Rock, Paper, Scissor (Bud Light): OK, the guy is getting smacked in the face with the rock when his buddy takes the game literally. Sorry, this appealed to the 12-year-old in all of us.
But only one commercial had Robert Goulet walking on the ceiling.
Diamond Foods' Emerald Nuts spot featured Goulet, who comes to your office at 3 p.m. every day when employees are suffering from low blood sugar. He gleefully rearranges people's desks and shreds documents, and the only person to ward him off is the guy who eats a handful of Emerald Nuts. Goulet escapes by climbing across the ceiling.
Diamond Foods first aired a Super Bowl commercial in 2005, featuring a bunny and a unicorn, and last year's spot with druids resulted in a 36 percent surge in sales, according to company officials.
A 30-second spot on Super Sunday cost $2.6 million, and advertisers were looking to cash in. Budweiser and Bud Light ads were all over the television, starting with a funny commercial where two gentlemen both want the last bottle of Bud Light and one uses an actual rock in a game of "rock, paper, scissors" just moments into the game.
Bud Light also aired spots where slapping became the new "High-5" and someone hires an auctioneer to perform a quick wedding. Budweiser brought back the Clydesdales in a cute segment where a stray dog becomes a proud Dalmatian.
Other commercials included a man in a heart suit getting beaten up by several diseases (beat your risk.com), a driver battling a map monster and a Blockbuster commercial where some animals try to use an actual mouse with their computer.
There also were two classy ads by Coke and Tostitos that commemorated Black History Month. The Tostitos ad noted history would be made no matter who won because a black head coach would win the Super Bowl, and Coke ran a simple, elegant segment noting several important dates throughout history.

Not so $uper $ellers
This year's ads were a mixed bag compared to a great game
by Mekeisha Madden Toby
If you're an octogenarian with a bad heart or bladder, living a Coke side of life, dancing topless and partying with former U.S. Attorney General Janet Reno, then Sunday's Bowl ads were for you.
Unlike recent years, Super Bowl XLI overshadowed its ads -- what a game -- leaving very little room for the ads to shine. Not-so-grumpy old men and talking animals trumped cute kids, who seemed to be completely overlooked this go round.
With the exception of that handful of sexy seniors and a controversial Snickers ad (more on that below) this proved to be a pretty bland year of ads where animals talked too much and everybody felt amorous. Here's what I liked and didn't.
Did like
1. Chevy HHR stripping guys commercial
A group of girlfriends is driving in a shiny orange Chevy HHR, and a guy comes over to wipe its only smudge off. When the driver rolls her window down to hand him a wad of bills, he takes the money with his mouth and begins stripping. The act sets off a mob of men who act accordingly. This includes the aforementioned octogenarian.
Why it worked: The naked chest of the old man makes this not only the year of the happy, naked senior citizen, but it's just a funny ad.
2. Blockbuster: The Return of Carl and Ray
Pet store buddies Carl and Ray are back,and this time they're trying to join the information age by hopping online but they get nowhere. Instead of a computer mouse they try dragging and clicking an actual mouse.
Why it worked: Carl the bunny and Ray the guinea pig are back and the return is welcome. Was that BobCat Goldwait's voicing the mouse? I love it!
3. Coke Grand Theft Kindness
A guy resembling a main character in the video game "Grand Theft Auto" looks like he's going to wreak havoc, shoplift and carjack but instead he pays for his Cokes, hands one to a motorist and does a number of other good deeds.
Why it worked: "Grand Theft Auto" is a huge part of the pop culture machine that has been lauded by fans and criticized by parent groups for its violence and sex. Coke takes the cool factor of the game and puts it in reverse by making it user friendly for all.
4. Snickers' kissing mechanics
Two dirty, rural looking mechanics work on a car. When one pops a Snickers bar in his mouth, the other is drawn to the candy and starts eating the other end. By the time the two eat the bar down, their lips meet and they are kissing.
Why it worked: Although it smacks of homophobia beyond the kiss-shy yokels, I kept thinking about the ad even when I didn't want to think about this ad. My knee jerked constantly, but if making people think and talk about this commercial was Snickers' goal, it worked.
5. Emerald Nuts and Robert Goulet
Crooner Robert Goulet is shown as an office prankster/gremlin, pouring coffee into keyboards and doing a number of other sneaky deeds. The only thing that wards off Goulet's attacks is a bag of Emerald nuts.
Why it worked: Even before Will Ferrell started spoofing Goulet on "Saturday Night Live," Goulet was one of my favorite comic foils. I'm talking 1988 "Beetlejuice" days. This ad just adds to the legend.
Didn't like
1. Bud Light face slapping
This ad proposes what would happen if face-slapping became trendy and proceeds to show a montage of people slapping each other silly. The commercial ends with a guy slapping his shocked boss after a successful presentation.
Why it didn't work: The slap-happy commercial was just too silly.
2. Garmin's GPS robot defeats the Map Monster
A guy tries to find his way on the road using a traditional paper map before the map expands and turns into a creature straight out of a Japanese science fiction flick. An onlooker sees the monster and uses his Garmin GPS system to turn into a robotic superhero who kicks the map monster's butt.
Why it didn't work: While clever, the ad came off as too abstract for its own good. It's Super Bowl. Don't go getting all artsy.
3. GoDaddy.com Marketing Department
A guy in a suit and tie tells viewers that GoDaddy.com is the company to register Web addresses with before entering a marketing meeting room where debauchery is the pitch. Women are being hosed with champagne, and a dwarf is laughing and carousing with the gang.
Why it didn't work: Yes, sex sells, but this commercial was too gross and too tasteless to even be mildly funny.
4. Budweiser Stray Dog Pulls a Fast One
A stray dog is down in the dumps after getting kicked around one too many times until he stumbles upon a parade with a shiny Dalmatian in a fire truck. The stray dog's luck changes for the better when a car speeds past and splashes him with mud, making him look like a Dalmatian. He then runs after the fire engine and hops aboard, while Dean Martin's "Ain't That a Kick in the Head" plays in the background.
Why it didn't work: While I liked Budweiser's beer-worshiping crabs, the suds maker relies too heavily on animals, and this new ad, despite its sugar-sweet cuteness, felt too familiar. Add to this entry Bud Light's talking apes and Taco Bell's talking lions.
5. FedEx on the Moon
A space crew lands on the moon and shows why solar delivery wouldn't work. By the end, one of the guys gets excited and floats away only to be hit by a comet.
Why it didn't work: The concept is cool, but the execution fell flat, and the guy getting hit by the comet just wasn't funny enough.