January 11, 2007





NORM: Goulet to get Super Bowl time
Copyright © Las Vegas Review-Journal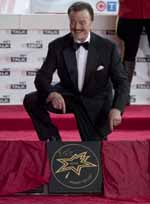 Barring another nutty NFL decision, the Super Bowl telecast will feature an ad with longtime Las Vegas entertainer Robert Goulet pitching a snack nuts company.
Goulet, who achieved fame with his role as Lancelot in Broadway's "Camelot," will be the face -- and voice -- of Emerald Nuts.
Advertisement
The manufacturer, Diamond Foods, is paying $2 million each time the 30-second ads appear late in the game.
The NFL's running battle with Las Vegas has to do with Nevada's legalized gambling industry.
The crackdown started with the league prohibiting the traditional Super Bowl weekend parties and promotional commercials by the Las Vegas Convention and Visitors Authority.
The latest move came when the NFL forced NBC's "Las Vegas" to move from Monday to Friday because the league didn't want NBC's Sunday night game to carry commercials promoting it.